Terri Allison, President
Early Childhood and Non-profit Consultant
Terri Allison founded Storyteller Children's Center 27 years ago and became its executive director in 2005. Through her work, she acquired funding to support childcare services for homeless children while their parents looked for jobs. She received her teaching credentials from UCSB, and acquired a Post Graduate Certificate in Infant-Parent Mental Health from the University of Massachusetts, Boston. Since retiring in 2015, Allison has been working as an early childhood education consultant.
Daniel Meisel, Vice President
Owner, Kapok Pictures
Daniel Meisel is the founder of Kapok Pictures, a motion picture development and production company. Formerly an attorney with San Francisco's Cooper, White, and Cooper, Meisel received a J.D. from University of California, Hastings College of the Law before relocating to Santa Barbara. Meisel has written, produced, or provided legal services for multiple award-winning short films with domestic and international festival screenings and airing on IFC and Showtime Networks.
John Ogilvie, Secretary
Financial Consultant, Strategic Planning
After receiving his M.A. in International Economics and Finance from American University in 1968, John Ogilvie has enjoyed an illustrious career in strategic planning, finance, and management. He has assisted a variety of nonprofit organizations and public service projects, including a five-year term as President of Art Without Limits in Santa Barbara. He currently owns a small publishing and photography company, Dare Wright Media, LLC.
Diana Ciontea, Treasurer
Director of Finance & Analysis, FastSpring
Diana Ciontea leads Financial Planning and Analysis at FastSpring, an eCommerce platform headquartered in downtown Santa Barbara. She has experience guiding financial and strategic efforts across a broad range of corporate environments, including Fortune 500 companies and high-tech startups. As a volunteer for Reading to Kids, Ciontea is dedicated to inspiring underserved children with a love of reading by partnering with schools and parents. Ciontea is a Santa Barbara native and a graduate of San Marcos High School who has recently relocated back to the community. She holds a B.S. in Biomedical Engineering and a minor in Business from the University of Southern California.
Debbie Arneson
Retired Fund Development
Debbie Arnesen was a fund development professional for 30 years serving nonprofit organizations and institutions throughout the tri-counties. During that time, she developed and directed many successful annual giving, capital and special project campaigns for a variety of organizations, from educational institutions to social service agencies. Debbie graduated from UCSB with a master's degree in education. Since retiring from fundraising in 2011, Debbie has been working with her husband in their landscape and contracting business.
Tisha Weber Ford
CEO, Weber Logistics
Tisha has been living in Santa Barbara for over 30 years and has had the opportunity to serve many nonprofits as a volunteer, board member, and donor. As a board member, she has had a breadth of experience in Development, Finance, and Governance. During her tenure on the Board of Trustees at Marymount of Santa Barbara (2002-2009), Tisha chaired the Development Committee, the Committee on Trustees, the Head Search Committee and served as Board Chair from 2006-2009. Tisha graduated from St. Mary's of California (1982) with a B.A. in Diversified Liberal Arts with a concentration in Biology. She currently serves as an executive in the Office of CEO at Weber Logistics. Tisha has two daughters, Josie (25) and Michaela (24). Her interests include gardening, cooking, hiking, and surfing.

Victoria Juarez
Executive Director, Scholarship Foundation of Santa Barbara
Victoria Juarez is the Executive Director of Scholarship Foundation of Santa Barbara, a non-profit organization that inspires, encourages, and supports Santa Barbara County students to and through college, graduate, and vocational school by providing information, advising, and scholarships. She is the first in her family to attend and graduate from college, and previously served as Associate Director of Storyteller Children's Center and Executive Director of Girls Inc. of Carpinteria. She received a B.A. in History from California State University- Long Beach and served in the U.S. Peace Corps for two years in Russia, where she decided to dedicate her career to nonprofit work.
Britt Ortiz
Director, Early Academic Outreach Program, UCSB
Britt Ortiz is the Director of Early Academic Outreach Program in the Division of Student Affairs at the University of California, Santa Barbara where he graduated with degrees in Sociology and Psychology. Previously, he served as the Associate Director of Student Outreach and Recruitment Services at CSU Northridge, and prior to that, he was the Director of the First Generation Student Success Program at the University of La Verne. Ortiz spends his free time traveling, gardening, and swimming.
Mat Gradias
Associate Architect, Kruger Bensen Ziemer Architects
Mat Gradias is an Associate Architect with Kruger Bensen Ziemer Architects with a focus on educational facilities. Gradias volunteers with the mentorship program for high school students interested in pursuing careers in architecture, construction and engineering. He is also on the advisory committee for Disability Services and Programs for Students department at Santa Barbara City College.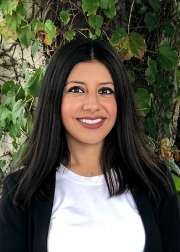 Stephanie Ramirez Zárate
Field Representative for Assemblymember Monique Limon
Stephanie Ramirez Zárate is a Field Representative for Assemblymember Monique Limon, where she oversees legislative issue areas surrounding K-12 education policy, immigration, agriculture and labor, and consumer protection. Ramirez Zárate earned a Bachelor's degree in Political Science and Public Policy from UCLA. While studying at UCLA, she served on the board for IDEAS, a student advocacy group that supported undocumented students. In her role as Fundraising Chair, she led the efforts to secure financial support for undocumented students pursuing higher education in the Los Angeles area.
Felicita Torres
Attorney, Griffith & Thornburgh
Felicita Torres, an attorney at Griffith and Thornburgh, practices primarily in the areas of bankruptcy and education law. Originally from Phoenix, Arizona, Torres practiced in the Arizona Attorney General's Office after receiving her degrees from Stanford University and Harvard School of Law. She moved to Santa Barbara in 2002, where she focused on child abuse and dependency issues. She enjoys spending time with her three children, and can often be found at the soccer fields and at the library.
Cary Matsuoka, District Representative
Superintendent, Santa Barbara Unified School District
Cary Matsuoka has been Superintendent of the Santa Barbara Unified School District since 2016. Matsuoka received his teaching credentials from UC Davis, before earning his Master's Degree in Educational Administration from San Jose State University. He spent seventeen years as a teacher and nineteen years in administrative roles. He taught chemistry, physics, and AP computer science at Saratoga High School, and served as a high school assistant principal, district coordinator, and high school principal.
Kelly Fresch, District Representative
Principal, Adams Elementary School
Kelly Fresch stepped into the role of principal at Adams Elementary School in 2017. She has dedicated her 24-year career in education to the progress and well-being of her students. Prior to her recent position at Adams Elementary, Fresch was principal at Guin Foss and Benson elementary schools in the Tustin Unified School District. Fresch has also served as a Big Sister with the Big Brothers Big Sisters Foundation for eight years, as well as a Board Member for the Tustin Public Schools Foundation. She holds a Master of Arts in Educational Leadership and Administrative Services Credential from Azusa Pacific University. She received a Multiple Subject Teaching Credential from the California State University Fullerton and a Bachelor of Arts in Communication from San Diego State University.

Joanna Pascoe, District Representative
Music Teacher, Franklin Elementary School
Joanna Pascoe is an alumnus of Azusa Pacific University, receiving both her Bachelor's of Arts in Music Education and her teaching credential. Although Ms. Pascoe studied opera during her years at Azusa Pacific, she is also a classically trained dancer and enjoys bringing various styles into her music classroom. Ms. Pascoe was hired by Santa Barbara Unified School District in 2013 and has been the music teacher at Franklin Elementary ever since. Her students study general music, singing, dancing, band, and orchestra. Since her start with SBUSD Ms. Pascoe has collaborated with the Santa Barbara Bowl, the Music Academy of the West, the Santa Barbara Youth Symphony, the Concerto Accordions, and several local musicians in order to further the development of music programs and provide unique growth for students of all backgrounds.
She would be excited to begin her work as teacher representative on the board for the Santa Barbara Education Foundation. Ms. Pascoe is proud to call Santa Barbara home and is blessed by the growing support of the community.

Wendy Sims-Moten, District Representative
Executive Director, First 5 Santa Barbara County
Wendy Sims-Moten is the current Executive Director of the First 5 Santa Barbara County and serves as the President, Board of Trustees for the Santa Barbara Unified School District. Sims-Moten has worked for the county since 1996 and has been dedicated to the progress, development, and well-being of the community ever since. She is also a Board Member of Gateway Education Services, Board Member of CAUSE Action Fund, Organizer and Chair of the African American Women of Santa Barbara County Luncheon and member of the Santa Barbara Women Political Committee.
Ed & Sue Birch
Jim Kearns
Daniel & Mandy Hochman
Sara Miller McCune
Joni Meisel
Nick Rail
Marty Blum
Phil Bugay
Ada Conner
Michael Cooney
Tony Fischer
Mary Gosselin
Shirley Ann Hurley
Mark Ingalls
Elinor Langer
Joni Meisel
Edwin Moore
Al Pizano
Craig Price
Rob Ramirez
Jaqueline Reid, Ph.D.
John Robinson
Lynn Rodriguez
Frank Stevens
Claire VanBlaricum
Lotte Weinstein