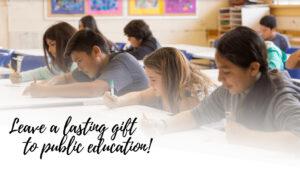 When you provide for a legacy gift to Santa Barbara Education Foundation, you will be welcomed into our honorary legacy society. This society honors forward-thinking supporters who commit to a future gift of any size through their estate plans.
Benefits of Membership
Recognition in SBEF publications and on the SBEF website.
Invitations to selected SBEF special events throughout the year.
You will also receive the satisfaction of knowing that you are helping to ensure that SBEF's mission and vision serve future generations of Santa Barbara students.
To request additional information on the many ways you can include SBEF in your estate or financial plans, or to let us know of an existing gift intention, please contact Executive Director Margie Yahyavi at (805)-284-9125 or [email protected]. All inquiries will be handled confidentially and imply no obligation.
As you consider your charitable plans, we encourage you to consult with a financial advisor.